Message from ACBI President Jack Molloy
3 Mar 2022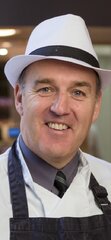 Dear Members and Customers
I hope you are keeping safe and well. As we move on now from the pandemic and our lives return to what will certainly be a new normal. I believe that our trade will emerge stronger and evermore present in customers minds when it comes to choosing quality meat, with great service and better value for money, with an all round better shopping experience they receive in a craft butchers shop.
We now need to capitalise on this goodwill and bolster our brand of quality moving forward.
Over the last eighteen months I have seen firsthand the full benefit of being a member of ACBI. For most of the last twelve months, trade will have been strong as people went back to a lot of the more traditional home cooking meals, and were trying new recipes and ideas. However for many members the back up support and advice on all matters relating to Health & Safety, HR, Crisis Management, funding and so much more has been a great source of security and reassurance to our members. The experiences of our members in all matters over the last while have given us a wealth of knowledge and information as to what is the right thing to do when our members contacted the office for advice.
I would to thank past Present Seamus Etherson and all Board Members for giving of their time to ACBI and I would especially like to thank Dave Lang and Liam Hanley for all their hard work during the last very difficult year and for their professionalism dealing with all matters of our proud members.
We continue to lobby government bodies to maintain reasonable work practices and legislation for our trade. We have built up a very good working relationship with all the government agencies and this was never more evident when ACBI successfully negotiated funding for county vets to keep abattoirs open last November .ACBI lobbied hard over the last year to have the rules on SRM downgraded and on 1st of September 2021 the rules have been relaxed. (see article). It's also great to see the very successfully collaboration with Education Training Board (ETB) for the Butchers Apprenticeship Scheme with sixty young Butchers currently in training and sixty more waiting to start, this will give them an internationally recognised qualification. I realise the importance of it for our young apprentice's to gain this recognition and have their Craft certified.
I remember back to 1991 when I won the Young Butcher of the Year Competition in the Mansion House in Dublin and how proud I was to have won against such strong competitors. Coming from a long line of Butchers now 5thGeneration, I have been involved with ACBI or many years and enjoy meeting and sharing ideas with other members from our Craft. Our business has changed so much over the last 30 years and it's a huge challenge to keep up with the ever changing needs of today's customers.
In these very uncertain times the one thing I truly believe is that we are stronger together building relationships, networking, sharing information, ideas and promoting the ACBI brand. Join ACBI, sign up for and contribute to the Whatsapp group, attend meetings. This is the future to keeping our proud tradition alive.
Regards to all , Jack.