Craft Butchers Gala Dinner & Awards Sunday October 28th KClub 2018
3 Nov 2018
Craft Butchers National Sausage & Pudding Supreme Champion 2018 Tuites Butchers 
Drogheda for his Dan Kelly's Cider Sausage.  The wonderful Darina Allen Ballymaloe Cookery School Champion of Irish Butchers and Irish Artisan Food Producers presented Eddie with the cup, a cup steeped in sausage and pudding making history; in play 14+ years.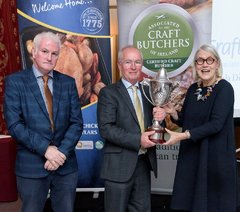 (L-R) Paul Anthony Sponsors Manor Farm 1775, Eddie Tuite, Darina Allen
Craft Butchers Star Butcher Shop of the Year 2018 Kerrigan Meats 
Donaghmede Shopping Centre, a fantastic shop and team! The prestigious award was presented by Darina Allen Ballymaloe Cookery School Champion of Irish Butchers and Irish Artisan Food Producers to Shane Kerrigan.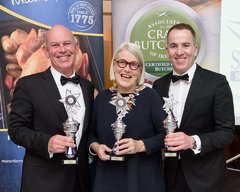 (L-R) Shane Kerrigan, Darina Allen, Barry Kerrigan

Darina Allen a very special guest on the night was delighted to be part of the butchers' celebrations exclaiming she was a big fan of Irish butchers; she admired their resilience, determination, creativity and how butchers, much like Darina's own recipes, have stood the test of time.
 
Darina spoke of the integrity and quality of food and how important it is for all at Ballymaloe House to know how and where their food is produced and where it comes from, "our food at Ballymaloe is very simple and totally depends on being able to source really good quality ingredients" she said.
 
Darina spoke of her great regard for traditional butchery skills; skills that have been passed down through generations and how wonderful that was, "butchers understand the value of quality meat, the value of traditional Irish grass fed breeds; don't underestimate the value of traditional skills and producing real meat" she passionately  stressed.

"Butchers are part of our food culture, part of our tradition" she said, because of the integral role butchers play in the provenance and quality of Irish meat Darina encouraged butchers to stand up and tell their story "butchers must tell their story, how you source your meat, the real farm to fork story; you are the experts with the real knowledge and skills, we cannot lose one more butcher" she urged. 

Please see all pictures from our Winners and Runners in our National Sausage and Pudding Competition and the Top Ten Star Shop Awards Click Here  
(Missing on the night were Star Butcher Shop 5th Mick Collins, The Scarlet Heifer, Leopardstown Shopping Centre, Star Butcher Shop 6th John Rawle, Rawles Meat Market, Edgeworthstown, Longford and Star Butcher Shop 9th (tied place) Keith Molloy, Molloy's Butchers, Ardkeen Stores, Waterford).

Congratulations to all involved and thank you for attending our evening, it was a fantastic night!

We thank our sponsors Manor Farm and Pembroke Alliance for their support.