'A Collection of Festive Recipes', a beautiful added value brochure for your customers this Christmas! - PLACE YOUR ORDER NOW!
21 Nov 2013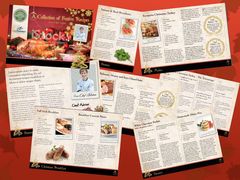 Craft Butcher Members CLICK HERE to view a sample of our beautiful Christmas Brochure of 'A Collection of Festive Recipes' from Craft Butchers and  Chef Adrian.                        
These will be printed as glossy brochures, they are a lovely accompaniment for your customers ordering turkeys/hams this Christmas.
You can order these from the office on 01 - 868 2820.
Please note there is a minimum order of 250.
IMPORTANT DATES
- Orders will be taken up to close of business Tuesday Nov 26th at 5pm.
Please note this is a taster of what is in store for our recipe brochure
Please call Julie on 01 - 868 2820 asap for more details and to get your order in!