Craft Butcher 'Relish Your Meat Week' 11 - 17th March - The Search is on for Ireland's Friendliest Craft Butcher
25 Feb 2013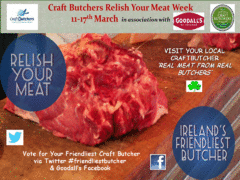 As part of Craft Butchers "Relish your Meat Week", Goodall's Ireland is on the hunt for Ireland's Friendliest Craft Butcher.
In Ireland, we have a great tradition of understanding and valuing our meat. We are fortunate to have such a fantastic selection of high quality Butcher Shops in our villages, towns and cities. Many of the more traditional crafts and small businesses have disappeared from our high street, but our Butchers are still going strong. There are many trade awards to celebrate the quality of the shop or individual Butchery skills, however we wanted to celebrate the quality advice that you can get from a good Butcher.
A friendly butcher should be able to explain to you about particular cuts and you should be able to easily talk to them about how much you want to spend. They should be passionate about the quality of the product, explain how it can be cooked to bring out the best flavours and willing to talk to you about their sourcing policy.
If you have a particular star in mind, please do nominate them. You can submit the name of your friendliest butcher (and what butchers' shop they work in) via twitter using #friendliestbutcher, via email info@Goodalls.ie or via our Facebook page www.facebook/goodallsireland, and don't forget to tell us why they are so special. You have until midnight on Tuesday the 5th of March to get your nominations in.
The winners and runners up will receive nationwide recognition, a special Friendliest Butcher trophy and products from Goodall's Ireland.
Best of luck to all involved!
Terms and Conditions apply:
Butchers must be in the Republic of Ireland only, a member of the Craft Butchers and a participant in the Craft Butcher 'Relish Your Meat Week'.
The shortlist will be drawn up by Goodall's of Ireland, following closing of nominations on the 5th of March.
Voting on the shortlist will commence on the 10th of March on the Goodall's website and will close by midnight on the 16th of March
Only one vote per IP address will be accepted