STATUTORY LABELLING INFORMATION - LOOSE & PRE-PACKAGED POULTRYMEAT - FSAI GUIDELINES
7 Dec 2012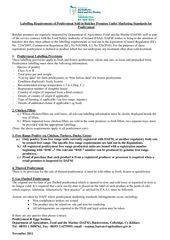 In the case of unpackaged poultry, the following information shall be displayed in a notice or sign, visible to the consumer, near the product.
If the poultry is packaged, the following information must be on each pack:
(a) The name under which the product is sold i.e.
- in the case of whole carcases indicate the species ('chicken', 'broiler', 'turkey'
etc) and the form of presentation ('with giblets' or 'without giblets') in the case
of cuts indicate the species and the cut ('chicken breast fillet', 'turkey drumstick'
etc)
(b) A 'use-by' date for fresh poultrymeat, a 'best-before' date for frozen
Poultrymeat
(c) Class (poultrymeat must be graded into Class A or Class B)
(d) In the case of fresh poultrymeat, the total price and the price per weight unit
at the retail stage
(e) Condition (i.e. fresh, frozen or quick-frozen) and recommended storage
Temperature
(f) Health mark/registered number of the slaughterhouse or cutting plant
(g) In the case of poultrymeat imported from third countries, an indication of the
country of origin.

LOGIN TO THE MEMBERS AREA TO VIEW DOCUMENT FROM THE DEPT. OF AGRICULTURE FOR MORE INFORMATION!