CraftButcher Spring Roadshows Dublin, New Ross, Cork, Limerick, Galway, Mayo
10 Apr 2012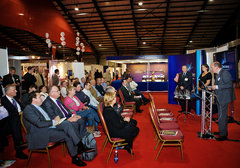 DUBLIN THURSDAY12TH OF APRIL RED COW MORAN'S HOTEL DUBLIN
NEW ROSS MONDAY 16TH OF APRIL HORSE & HOUND HOTEL BALLINABOOLA, NEW ROSS, WEXFORD
CORK 26TH OF APRIL MONTENOTTE HOTEL, CORK CITY
LIMERICK 30TH OF APRIL GREENHILLS HOTEL ENNIS ROAD
TRALEE, 8TH MAY MOUNT BRANDON HOTEL, TRALEE, CO. KERRY
GALWAY, 14TH MAY TBC
CASTLEBAR 15TH MAY BREAFFY HOUSE HOTEL, CASTLEBAR, CO MAYO
COMMUNITY CHEF BRIAN McDERMOTT WILL DEMONSTRATE SOME SIMPLE PORK COOKING TECHNIQUES, OFFER COOKING TIPS, ADVICE AND RECIPES WHICH CAN BE PASSED ON TO YOUR CUSTOMER.
EOIN BARRY WILL GO THROUGH THE CERTIFICATION PROCESS FOR MEMBERS
JOHN HICKEY (CEO of ACBI) WILL GIVE AN OVERVIEW OF PLANS FOR THE ASSOCIATION


GAVIN LAWLER (www.pixelimpact.ie) WILL SHOW YOU THE BENEFITS OF YOUR OWN WEBSITE TO DRIVE TRAFFIC TO YOUR STORE


THOMAS HUGHES FROM DONEGAL RAPESEED OIL WILL DEMONSTRATE HIS PRODUCTS
EOIN HURLEY FROM MCCARRENS OF CAVAN WILL SHOW THEIR PORK PRODUCTS
DAVE LANG (ACBI) WILLSPEAK ABOUT ALTERNATIVE PORK CUTTING METHODS AND ADDED VALUE PRODUCTS FOR ADDED PROFITABLITY

There will be many ideas to improve your business and add to your margin.
IF YOU CANNOT ATTEND, SEND YOUR STAFF. ONE GOOD IDEA CAN SAVE YOU MONEY
10 GOOD IDEAS CAN SAVE YOU A LOT OF MONEY
THERE WILL BE TIME FOR QUESTIONS ON ANY TOPIC AT THE END OF THE EVENING.