Nolan's
Nolan's Butchers, Killcullen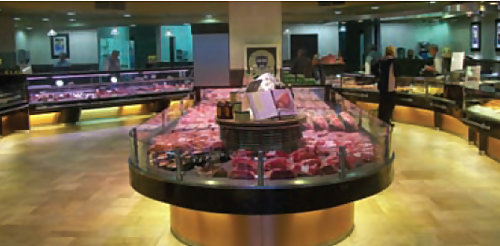 Nolan's Butchers of Kilcullen was established when Andy Nolan first opened a butcher's stall in 1886. He was followed by James G. Nolan who continued the business with his brothers, Andy and Mick, trading as Nolan Bros.The brothers had a progressive and enterprising outlook. Andy Nolan concentrated first on consolidation and in later years on modernisation and expansion. He recognised the importance of being able to comply with the rising standards required by the European Union Abattoir Regulations in 1988 and invested heavily in a new abattoir in 1992. This turned out to be a critically important decision. It allowed Nolan's to continue their own slaughtering, retain full control over the production process, and ensure the continuation of their quality standards.The business continues today with James Nolan at the head of operations. James is the first person to acknowledge that it was his father Andy who worked incredibly hard and who really built the business from nothing, developing their award-winning homemade sausages and puddings.

James joined the family business officially back in 1987 and studied the trade under his father until he formally took over in 2002. James felt it was important that he developed the business in a way that suited his strengths. He is just as particular as Andy about quality. Good meat comes not just from what happens behind the counter. They boast a staff of 18 full-time and three part-time workers.The shop itself is more than just a shop. It is a 28,000 sq ft complex that includes a retail store, a fully EU licensed abattoir, boning hall, curing facility and all the required ancillary services and a large car park. Having everything on site gives the ability to have full control over the various processes and if problems arise they can be solved there and then. Nolan's is described as a 'farm to fork' enterprise, which has become a very rare business type in Ireland today. All their beef comes from heifers from their own farm and other farms in the locality.
Expansion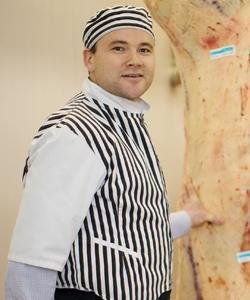 In June 2006, James undertook a massive expansion. The doors were closed and the entire shop was demolished.Every brick was taken down except for the front façade, which is under a preservation order. The new store was opened on December 6, 2006. To continue trading during the refit was paramount to the business and so James set up a temporary butchers three doors down while the work was going on.
Over four years of thought and research went into the design and layout of the store to make it as enjoyable a shopping experience as possible. From the chill cabinets, to the cabinets, to the 119 different light fittings, to the top quality Italian tiles, to the ergonomics - everything was individually selected with the customer's shopping experience in mind. The meat displays are individually put together on a daily basis. The customer can access any section with ease including the wine, cheese, deli and then pay at an individual payment section.
Diversifying Business
Nolan's is not your normal butcher shop and in the store there is a delicatessen, which sells local artisan pâtes, olives and chutneys.Fresh fish is delivered five mornings a week from a local supplier.In everything, absolute quality is the key. However, what really makes Nolan's unique and renowned, is their beef. The beef is hand selected beef from Nolan's own farm, and other local farms, and dry aged for a minimum of 14 days in the old-fashioned way to ensure tenderness. All the lamb, pork and poultry are locally sourced and Nolan's cure their own bacon and ham. Black and white puddings are made in-house, as are their famous sausages, which are made fresh every day.
Customer Service
Attention to detail and a forensic approach to business, coupled with a quality product and excellent customer service, are the hallmarks of James' approach. "It's no good opening the door on Monday morning and hoping customers will come in. You have to give them a reason," says James. "I wanted to have the best shop, the best staff and the best product, and everything we do here is to that aim."James is no stranger to awards. In 2008, he was awarded the Retail Excellence Ireland Large Store of the Year and in September this year he took the title of Star Shop when the ACBI Star Shop Award results were announced. James also won Gold for black and white puddings at ACBI's All Ireland Sausage and Pudding Finals, as well as eight gold medals from eight entries in the Good Taste Awards this year. James is justifiably proud of his achievements. "We are delighted with the awards. The team here work very hard and it is lovely to be recognised for that. I must say that winning Shop of the Year has made a huge difference to business. The Leinster Leader and KFM Radio gave us a huge amount of publicity and we saw a sharp increase in business just after winning the Star Shop Award.
James believes that the competitions run by ACBI have been a tremendous help in promoting his business. "By winning ACBI awards for products like sausages and puddings it reinforces the consistent quality of Nolan's produce to our customers. Awards also raise brand awareness and increase sales of these award winning products," says James.
Further Development
James is also a realist and acknowledges that while he is thrilled to win awards he feels that he still has a lot of work to do to develop his business in order to get it to where he wants it to be. He is a little shy about forthcoming plans but is honest enough to admit that future plans are tempered with a strong sense of realism in light of the world that we are living in today and the harshness of the economic times that prevail. Against this backdrop, he feels that he has to keep pushing his business to perform at a higher level with a fresh approach coupled with new ideas that attract and appeal to his broad range of customers.
Positive
James has had progressive renal failure since birth and for the first 19 years of his life he spent much of his time in hospital. In November 1986, James was put on dialysis and in April 1987, the family began to consider the possibility of a transplant. James's sister was compatible for donation.The transplant took place on July 25, 1987 when James was 20. Once fully recovered, he decided to 'put something back' and approached The Punchestown Race Course and The Turf Club about the idea of a charity race. He received their approval and in 1990 a race was founded, which has been running annually ever since. To date, over €1.1m has been raised by the Punchestown Kidney Research Fund for various kidney-related projects.
See www.pkrf.ie for more information.