Cosgrave's
Cosgrave's of Omni Park, Santry, Dublin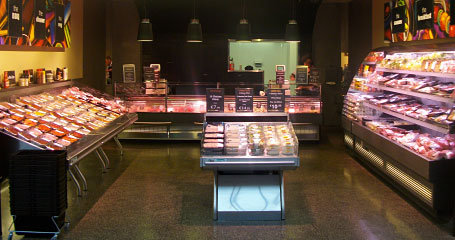 Cosgrave's have a long tradition in the meat trade behind them. "We started in 1892, and have been butchers in Dublin since" said Declan Cosgrave, whose striking new shop upgrade has just opened. "Funky is the word we are hearing from customers" according to Declan, "and that's great because we want to connect with younger customers". Declan thinks younger customers will be the future for the trade and wants to attract and educate them into buying and cooking meat. "Our mother's generation could cook, but lots of people now are a bit lost in the kitchen".
Declan has been in Omni park for 20 years now has seen changes over the years. "The centre has expanded, new shops have come in and the customer base is getting younger".
He has made several changes to the shop layout in those 20 years and always felt it was the right thing to do. "If your shop looks the same as it did 20 years ago, your customers will start to see it as old-fashioned. It need not cost an arm and a leg to upgrade and modernise. If you talk to someone like Maria O'Neill and give her your budget, she will get you a renovation your customers will notice".
Declan has a motto which all of his staff learn " If a customer comes into the shop without a smile, give them one of yours". He sees customer service as the key to taking butchers forward and out of recession. "There is no customer interaction in the supermarkets now, you can go in buy €100 worth of goods, check yourself out and never speak to a soul. We need to exploit our strengths such as expert product knowledge, quality traceable product, customer interaction, and importantly, customer recommendation"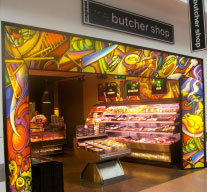 Declan updates his staff training regularly with customer service top of the list."Rule one is :The customer is always right. Rule 2 is : Refer to Rule 1" He feels value is important, but giving value with no margin of return is bad business.
"I see butchers panicking to compete with supermarkets and they buy inferior quality product to meet a price. That in my estimation is the road to ruin. Keep your quality, buy keenly, give value but above all keep your standards high".
Declan wanted to take part in the Star Shop Awards competition, but he knew his shop revamp would not be finished in time. "I really wanted us to look our best for the competition, but we will definitely be in for next year"
Cosgrave's have a 1932 van with their name still on it that they use for promotions but no company vehicle as they are completely retail. "Wholesale doesn't interest us for a number of reasons. One, it's very hard to get paid, two, we are paying for retail space here which is too expensive for wholesale, and three, we are retail butchers and this is where we are strong".
The challenges of the next 5 years are summed up by Declan this way. " We have to learn to see it from the customer's point of view, and if we don't we will fail. Listen to what the customer wants, it sounds obvious but not everybody does it".
Declan sees his membership of ACBI as advantageous, "they are always there when needed and it's great to get another butcher's point of view on a problem, without everybody knowing your business. You know they understand and care about butchers".
He gets 2 or 3 visits a year from his EHO and generally finds it positive. "if they ask for something to be done, we do it, so we don't have any problems with them. He has never been visited by NERA but had a Revenue audit recently. "If you run your business properly you shouldn't have anything to worry about".
Declan's main sellers are chicken fillets, mince and pork. "Pork is flying out the door, it's amazing considering the pigmeat scare last year. Obviously the public are convinced the traceability is working and the product is perfectly safe".
Declan would recommend a career as a butcher, but cautions that we as butchers put ourselves down. "In other countries a butcher is seen as a master craftsman, a pillar of the community, a solid citizen. Here we seem to be relegated to the level of market trader. We need to get back the pride in the work we do and the way to do that is to upgrade the training our staff receive. What makes us stand out from the supermarkets is that they no longer have butchers, just guys in white coats who know nothing about the product".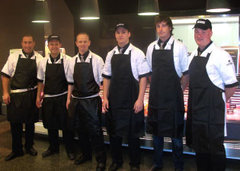 He would like to see more social events for members of ACBI such as the Butcher's Ball which took place during the DMVA years, and is very interested in setting up a network with other butchers to exchange information. (ACBI would be happy to facilitate such a network. Other butchers interested contact Dave Lang on 01 2961400). "Sometimes there is more done over a pint than all the meetings in the world".
Declan made the decision to upgrade his shop when he realised sales were flat. His rent was going to remain the same so he thought if he could attract more customers in it would put the rent in perspective. "We are delighted with the considerable increase in customer flow, it made it all worthwhile. You have to keep moving in business, nothing stays the same. And if it's going to change, make sure you are the one controlling the changes".
The overall look was by Maria O'Neill Design and Gerry Owens design, both Partners in Business with ACBI. Declan's brief was he "wanted a shop that didn't look like any other butcher's shop." Well he certainly got that.
Floors were by Punchline Developments and the lighting is by Airlux, also Partners in Business with ACBI.
www.mariaoneilldesign.com
www.gerryowensdesign.ie
www.punchlinedevelopments.ie
www.airlux.ie