Shop Profile
Fenelon's Butchers, Stillorgan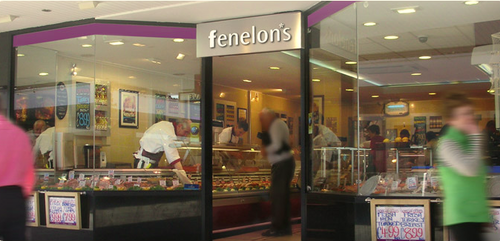 Fenelon's of Stillorgan was the first butcher shop in the first shopping centre in Ireland in 1966 and is still going strong.
Opened by Larry Fenelon, who says butchers thought he was mad to be paying the rental price asked at the time, it continues to be a destination store. The shop has been renovated several times, most recently in 2011, and Clif Lenehan says: "You have to keep updating your business to stay fresh".Fenelon's won the ACBI Star Shop of the Year Award in September 2011 and Clif says his "hard work has paid off ". "We look closely at what our customers want and respond accordingly," says Clif. "Listening to your customer is probably the most important thing you can do, what you learn is invaluable to your business." "Winning the Shop of the Year Award has been great for our profile, but even taking part shows the customer that we are serious about quality and about customer service."
Are you being served?
Added value products are a big seller in Fenelon's and started on a seasonal basis with BBQ products about 20 years ago. Then, new products were introduced one by one, and now a range of added value products are available. Clif says customers appreciate having products prepared and 'ready-to-cook' because of the time it saves them. "You have to monitor products constantly, see what is selling, what is holding back,and obviously what you are getting a margin from."Clif tries to have products that are not available anywhere else, which means work on product development is ongoing.
Some of the best ideas are the simplest and sometimes come from necessity. At one time, Fenelon's had a surplus of legs of lamb and in order to move them, Clif butterflied the legs and marinated the joints in French garlic mustard. It worked so well it is a mainstay in Fenelon's and the search for new products continues. "If your customers' needs are changing, obviously the butcher's shop has to accommodate that change," says Clif.
He adds that when trying out a new product, it is important to give samples to customer in order to get their feedback.Clif thinks that oil-based marinades are best because they do not alter the colour of the meat and do not need any extra oil for cooking. While they may be a little more expensive than water-based, the quality is better and the customer knows that. Clif sources his marinades from Redbrook and Gaynor's.
When Clif took over Fenelon's in 2007, he had already been working there for 23 years, so he knew the business well. One of the first things he did was to target the younger consumer."With respect," he says, "the younger customer, with a family, is a long-term prospect as the family grows up, and, if you look after the children, when they have their own families, they will be your customers too."
A good motto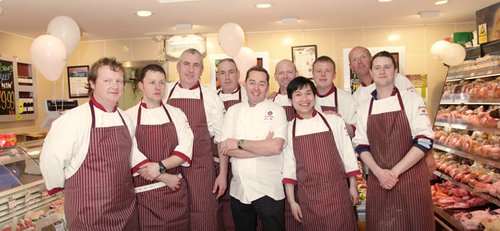 Fenelon's work hard on customer service too. A good relationship with customers is vital to success and can be best achieved by giving the best quality product, the best customer service, and the best advice on cooking and storing meat. Clif 's first boss said: "If it's not good enough for your mother, it's not good enough for anyone else," something all the staff at Fenelon's fully understands."Buy it right, cut it right, sell it right," is Clif 's motto, and it says off in loyalty and repeat business. "You have to establish a relationship of trust with your customers, and it's a foolish butcher who breaks that trust," says Clif. A fair price for a good product is a good motto. Clif doesn't buy sides of beef because these are cuts that will not sell in his store. He says that buying good quality cuts works better for his business and he does not have to worry about a build up of mince or stewing beef. "There is much more control and I can buy what I need, whenever I need it." He buys from Ballon Meats, and has been dealing with them for over 20 years. "They know what I want, the quality and spec, delivery times, and if I want anything hung for longer than usual, they will do it for me." Clif believes an essential part of a good business is a good relationship with suppliers. If they get paid regularly and on time, they are in a better position to give you the best price and the best quality.
Gone fishing
An essential part of the shop is the fish counter. Larry Fenelon bought the fish shop next door many years ago and Clif has worked hard to make Fenelon's a destination fish shop. "We changed cabinets several times and we now have a specialist fish man looking after it." Fish accounts for 12 to 15 per cent of Clif 's overall business. In the old days of fast and abstinence, fish was a lifesaver for butchers on Wednesdays and Fridays.These days, fish is a lifestyle choice and is an excellent product for butchers. But there is no point in doing it half-heartedly, says Clif. Employ or train someone to specifically look after it. BIM (the Irish Sea Fisheries Board) can help with training and information. Have the proper equipment and recipes and, of course, buy the best quality fish you can.
In the customers' shoes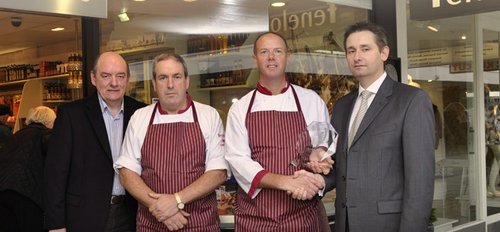 Giving the customer what they want is the mantra in Fenelon's.Meat well trimmed, without gristle, on clean trays, with price and description on the label is the standard here. "You have to make it easy for your customer to spend their money with you," says Clif. "A pleasant, clean, well-lit shop, friendly knowledgeable staff and above all, a quality product offering." Above all attention to detail is so important. The little things can let you down, like a dirty cloth or blood spills on the front of the scales. Step outside your shop and look at it as if you were a customer. Look for faults, because if there are any, your customer will spot them and customers will buy somewhere else if they are not happy with the cleanliness of your premises.
You could be losing customers without even knowing why. "Just because you have a butcher shop that is open doesn't mean customers are going to come in, you have to establish your point of difference and you have to work hard to maintain that difference," Clif concludes.