Why Join?
How we can help your business to be more profitable!
What you get for less than €1.65 a day (before tax). ACBI opens doors!
Advisory Service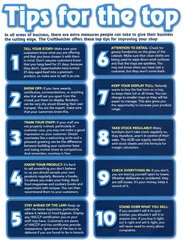 Click to view our Top TipsWe are just a phone call away for any issue arising in your business!
Confidential business mentoring and advice,
Butchering skills assistance
Shop design,
Food safety and other food law,
Promotions & marketing
Employment law
Marketing
Quality posters, seasonally, or customised for your shop, special offers etc. Local football and other sports events, Also customised price tickets etc. Talk to us about your needs. We can also provide personalised recipe leaflets for you to focus on the product you need to sell.
Representation
Like every other sector ACBI is your voice with the authorities; local or national, whether in a crisis like the pigmeat problem or on an everyday basis with the Departments of Agriculture or Health, FSAI, Bord Bia. ACBI have recently met the Minister for the Envirinment, John Gormley to discuss incineration of waste. At a high level meeting with FSAI the association stressed the need for consistency in EHO inspections. We have recently started dialogue with the IFA and have worked with the Farmer's Journal. It's a voice you need! It opens doors!
Branding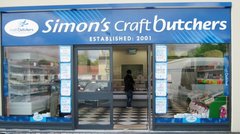 Shop FrontThe craftbutcher brand sends a strong message to customers. They like brands, this is yours! Let them know you are a CRAFTBUTCHER. It will open your door to new customers!
ACBI is your voice with the media. We issue regular press statements and organise other promotions to keep the butcher in the mind of potential customers
Compliance
We can take the pain out of HACCP records, Health & Safety and employment law compliance with our stationery products.We also produce all the material you will need for an inspection by the new National Employment Rights Authority which has begun inspecting butchers' shops. Remember you may have an inspection in 2010.
Information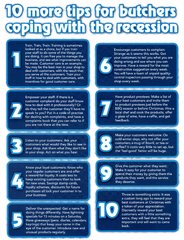 Click to view more Top TipsOur regular, members only bulletin has prices information, up to date developments in the trade, food safety updates etc. Also we offer a text message service for urgent matters.
Business Training
For you and your staff. It works - especially in tougher economic times. In 2010/11 our programme will be focussed on Customer Service Training, New Cutting Methods and everything from cabinet display to cookery skills to hygiene.
Basic Training
The National Certificate in Butchering Skills is the only nationally recognised training for entrants to the trade and leads to a FETAC qualification. It will help you recruit staff, and keep them. But you must be a member to benefit.
Competitions
A prize or award in any ACBI competitions can add €€€ per week to your turnover. We can prove it!
Merchandise
Non-levy, 'Craftbutcher' branded bags & 'Bags for life', bags on a roll, light boxes at great prices.
Discounted Services
The 'Partners in Business' section on our website and in 'The Craftbutcher has details of a range of companies and products which offer special value to ACBI members and who support ACBI ... insurance, refrigeration, scales and other shop equipment, food hygiene services, thermometers, etc. But you must be a member to benefit.
Most important of all
Most important of all, you will be in a national organisation with people who have the same problems as you and who have found solutions to those problems.
And we produce 'Special Offer' or other posters and flyers with a professional look for your business to order.
ACBI Merchandise
By purchasing from ACBI you are promoting the 'Craftbutcher' image. Helping your business and your Association.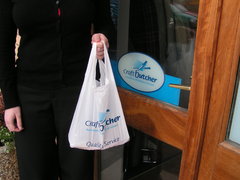 Non-Levy Printed 'Craft Butcher' Carrier Bags to bring the message home -- literally
€11.50 per 1000
Free delivery with 10,000 or more.
Order yours today from ACBI
Please see separate Order form for ACBI Merchandise; Stationery and other products. These are excellent value but also mark your business out as a member of ACBI
This is a year when membership of ACBI will especially benefit your business
Your national association...can you really afford NOT to be a member?